Details

Published on Wednesday, 24 January 2018 22:38
We are proud to announce the upcoming Beach N Boards Fest Hydrofoil Regatta! Sign up today for this fun action packed event taking place March 10th and 11th in Cocoa Beach. It will take place at Alan Shepard Park at the end of the 520 Causeway.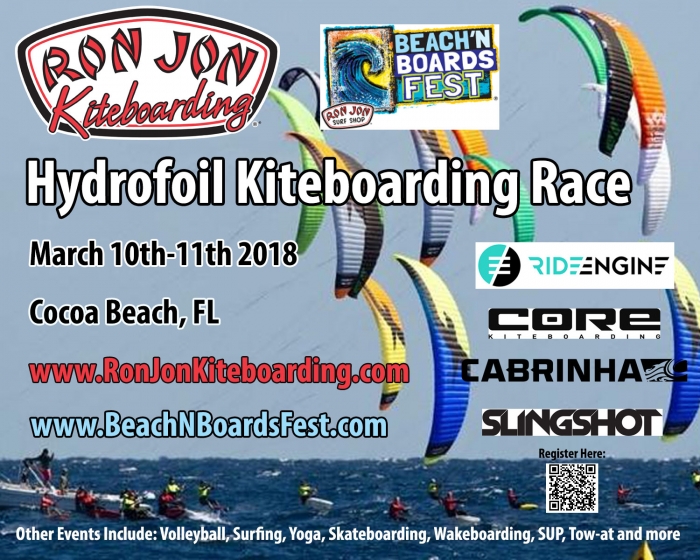 Sign up today on Regatta Network:
https://www.regattanetwork.com/clubmgmt/applet_registration_form.php?regatta_id=15933
For more information on the Beach N Boards Fest, check out:
http://beachnboardsfest.com
We will be holding a pre party at the shop on Friday night 3/9/18 starting around 7pm. Shop address is:
180 Canaveral Plaza Blvd
Cocoa Beach, Fl 32931
Saturday night after party will be at Sandbar Sports Grill.
Prizes so far include:
Core Kiteboard
Cabrinha Fireball Bar/Line set w/ Spreader Bar
Yeti Cooler
Penny Skateboards
Ride Engine Bags
Slingshot Swag
and more
Entry is $100 in advance to cover expenses.
Skipper meetings will be at 9:30am sharp each day. We will have an area roped off for setup, launching and landing. There will be Sheriff Boat utilized for race committee. Arrive early for parking.
Feel Free to Contact the shop for more info: www.RonJonKiteboarding.com or 321.252.5483
Details

Published on Wednesday, 22 November 2017 22:28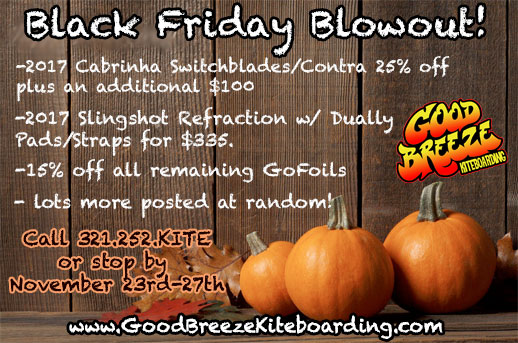 First off...we would want to wish you all a very Happy Thanksgiving. With lines around the corner and chaotic shopping experiences, we often forget what this holiday is supposed to be about. No its NOT turkey and over eating. It's about being thankful for what we have. Here at Good Breeze we are extremely thankful for our customers, friends and all the support we have received over the years. It is because all of you that have made it possible for us to grow and continue to spread the stoke. We are going to do our best to give that love back this weekend with our Black Friday deals. Below are a couple of the items we will be highlighting. Make sure to browse throughout the site. We will be discounting and updating items randomly as well.
SMALL BUSINESS SATURDAY! We take pride in being a small business. We want to try and offer our local and regular customers the best deals we can. So if you come in on Saturday, we will do our best to give you a crazy deal. We want to support those who support us!
***NOTE: THERE WILL BE TONS OF OTHER DEALS WE CAN'T LIST HERE. DON'T FORGET TO CHECK US OUT!
Complete Slingshot Refraction board with Dually Straps for $335!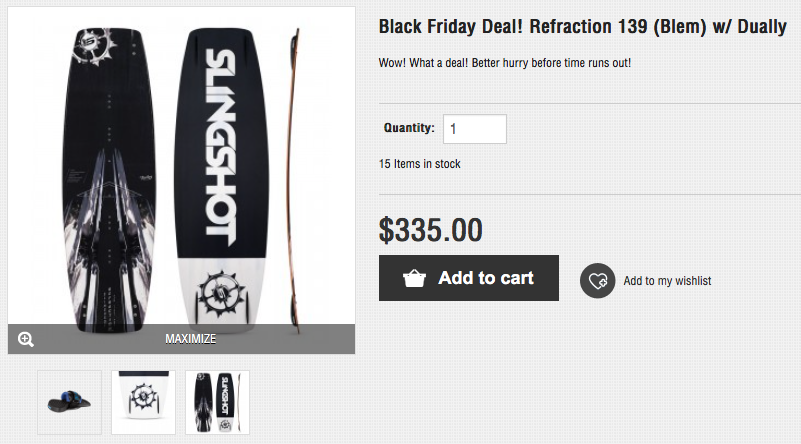 2017 Cabrinha Switchblades and Contras



We've already been offering 25% off these. For a limited time only we will take an additional $100 off. Limited quantities!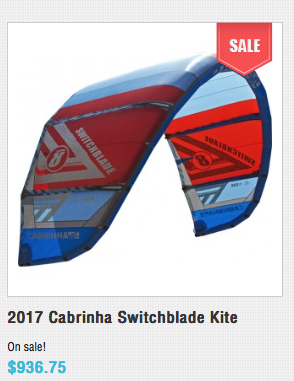 Slingshot Blem Boards!



We made a deal with Slingshot and purchased all the boards they had left with small cosmetic "blemishes". These boards have no compromise structurally and carry the same warranty as an other board. Each board has slightly different blemishes. Sometimes you can't even find them! We will be offering these boards at incredible discounts Thursday through Monday. Don't miss out!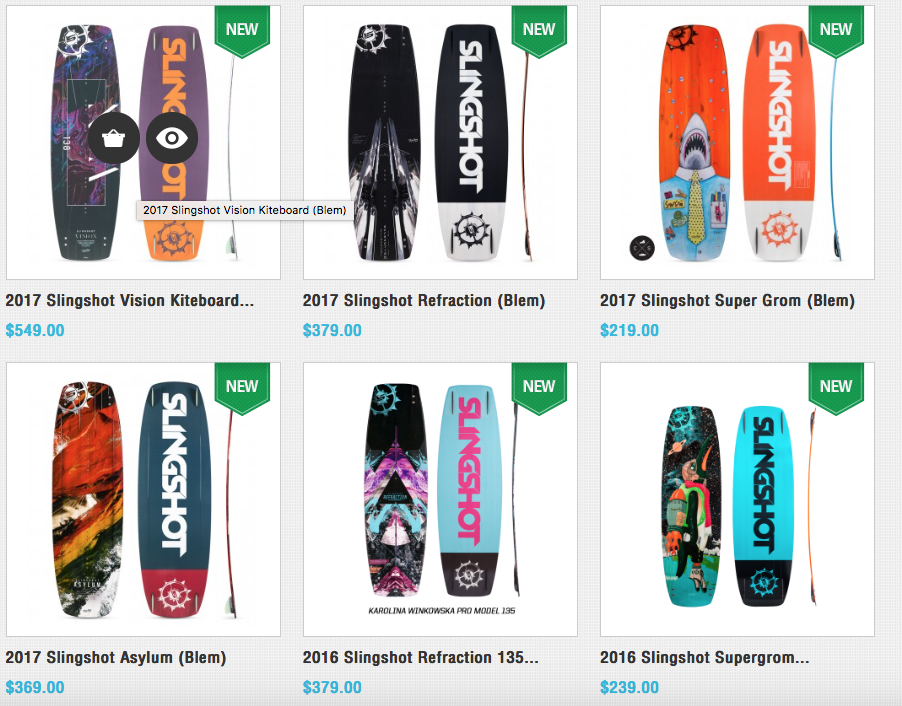 GoFoil Maliko and Kai



15% off remaining GoFoils!!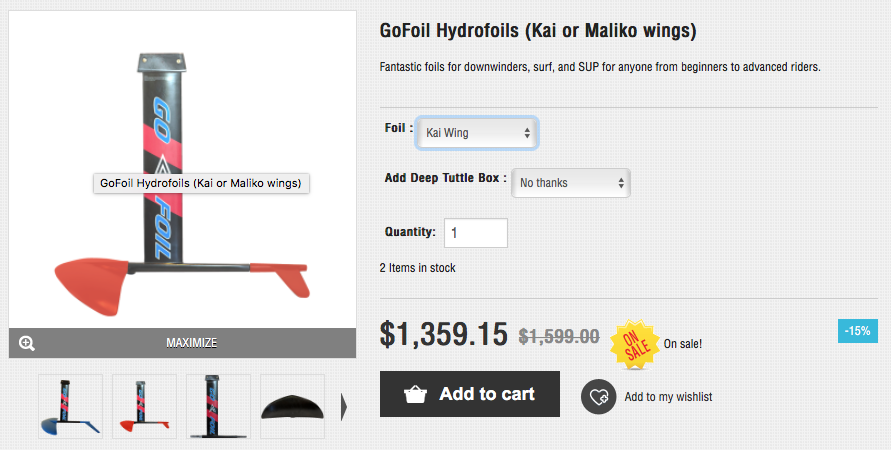 www.KiteboardingCloseouts.com
Call with any questions!!!
321.252.5483
Details

Published on Friday, 20 October 2017 20:07
Come out on Saturday October 21st 2017 for a Cabrinah Demo. We will plan on holding it at the 520 Slick with the Eastish forecast. Start is around 10am and finishing up around 5pm.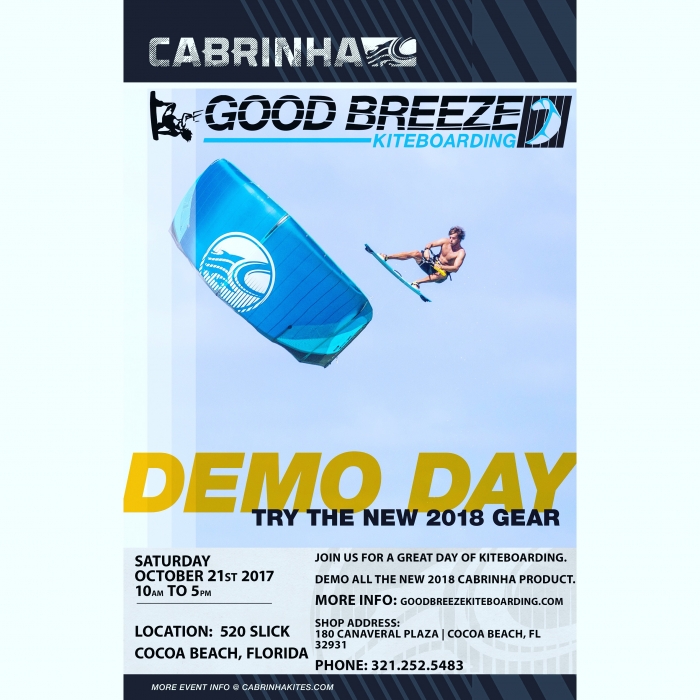 Details

Published on Tuesday, 11 July 2017 16:13
Being a kiter for over 13 years, there have been times where I'm starting to feel like my riding is plateauing and I find myself becoming incredibly picky about conditions. I become more and more desperate for windier, intense and extreme conditions. I find myself desperate for those really windy "Victory at Sea" days with large waves. I guess it's the classic junkie scenario where I find myself needing a bigger and bigger score. I consider myself a waterman. I have been surfing my whole life and so kiteboarding was a natural progression. But surfing is still a big part of my life. That isn't going to change anytime soon. But herein lies the same problem. I constantly desire bigger and cleaner waves. When paddleboards started getting smaller and lighter, I found a temporary fix. Riding small waves with a paddleboard gives a slight resemblance of riding bigger waves. I still love my SUP when the waves are small and they are also a great tool for accessing certain waterways while getting a workout. But like all things, its time to progress and move on to the next big thing.
Just when I was starting to think that everything was plateauing once again, foils started to show their face. At first it was tough to find them. Picking off used ones from friends in different areas and trying to figure out how to ride them. At first we thought we wanted to learn in really light winds with small kites. Turned out, if you didn't know how to ride them then this just made it more difficult. Then the pull behind the boat attempts began. The only thing we knew about this came from wakeboarding. So full speed ahead. Ouch. The scariest fall was when I landed on the wing right on my throat (there is video to prove it). But persistence and desire to master something new prevailed and I figured it out. There were still some gnarly falls and close calls but I was foiling. Staying upwind was no longer an issue. Riding smaller kites in lighter winds, opened up a new set of elements. Different foils came out. They became easier to find and we even started selling some!
Once the short masts and big easy wings started to roll out…the trend was here. It's been great to watch the evolution of foils. The short masts really revolutionized the way people learn and where they can ride. Programs like Slingshot's Foil-Academy have greatly increased the availability of learning materials and information.
So even though I feel that I could never truly "master" foiling with a kite, the buzz of learning something new slowly started to fade just like anything else. But suddenly, I saw a video of some guys actually paddling into waves with a foil. Just like they were surfing!! What?! Why haven't I tried this? Ive certainly rode waves with the foil on the kite. And we all remember Laird Hamilton towing into waves back in the day on his modified Air Chair. So what did I do? I took out our demo Slingshot Simulator with the stock kite Hover Glide wing and 24" mast. It was kind of blown out and around waist high at best. The small wing made it fairly difficult to catch waves. There was a lot of extra drag. But I managed to fight my way into a couple. And to my surprise, I was straight up foiling. I would "porpoise" from time to time but it was starting to click. Since then I (with help from friends) have experimented with different boards, different wings, different mast heights and more. It has me excited for the "something new" again. It gives me my fix. The waves don't have to be big. They just have to be enough to foil. I even shot the Cocoa Beach Pier the other day! Yes I rode through (under) the pier while pumping and riding a wave on the foil. So if you're like me, and ready to try the next thing. Then this may be the next thing for you!
Feel free to call, email or stop and ask any questions.
Details

Published on Monday, 13 March 2017 22:43
Hydrofoils (aka foils) have been a growing trend among kiteboarders nowadays. This trend is starting to spread throughout other water sports. Standup Paddleboarders are starting put foils on the bottom of their boards and catching and riding the smallest of waves. Surfers are beginning to paddle into waves on standard shortboards and riding waves on these hydrofoils. They can now pump off of one wave back out into the lineup and hop on another wave. This was unthought of until it became reality. Here are at Good Breeze Kiteboarding, we are trying to be on top of this trend because we too are passionate about it. We carry multiple brands of foils for kiting, surfing, paddleboarding or windsurfing. We will be bringing in new surf-foils from Slingshot, GoFoil and Zeeko. Time to get out there soar above the water like a pelican riding an updraft. Hydrofoiling is the future of watersports. Cocoa Beach is the perfect place to get started. The mellow, slow breaking waves of the area make it ideal for surf and SUP foils. The lightwind conditions of the summer seabreeze are perfect for kitefoiling and windsurf foiling. Have some questions on hydrofoils or looking to purchase one? Come by today or give us a call! 321.252.5483