KITEBOARDING LESSONS AVAILABLE
*Make Sure You Ask Your School if They Use A WATERCRAFT DURING LESSONS!
Now Offering Lessons in Spanish! (Ahora ofrece lecciones en español)
Learn to Kiteboard (aka Kitesurfing) with us! Kiteboarding is a very technical activity and requires large amounts of training and instruction. People you see kitesurfing might make it look effortless or easy, but this is because they have experience and have received proper instruction. The sport is comparable to Scuba Diving or Skydiving. Instruction should be obtained through lessons by trained professionals. Just like any hobby, you can always benefit greatly by receiving advice from a professional. Whether you're a beginner or you already have some Kiteboarding experience. The lessons below range from introductory, land-based lessons to more advanced water-based classes. Cocoa Beach is the ideal location for anyone interested in Kiteboarding. The shallow flat water of the Banana River Lagoon is perfect to build up a range of skills and techniques in a safe environment. Cash is always the preferred method but we do accept Visa, Mastercard, Discover, American Express or Paypal! Our Lessons take place at the "520 SLICK" in Cocoa Beach, Florida. CLICK for more details on the location. 
Lessons Available and Pricing
Intro/Hourly Mult-person rate
This is a lesson package including the Intro Lesson plus 2 additional Hourly Lessons. This can be done in one or mutliple days. Payment upfront required.
Take a ride on the magic carpet! Now Offering E-foil Lessons/Demos. We will teach you the basics of flight on the Lift Efoil. There is no feeling like this Electric Hydrofoil Board.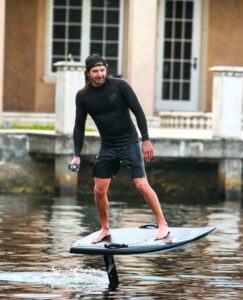 Proficient kiters can learn to ride a hydrofoil in this lesson. We will provide the foil and instruction with jetski support! Take your kiteboarding to the next level.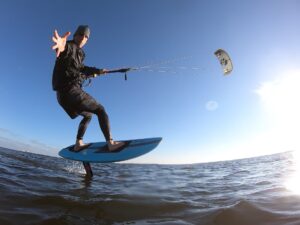 For waterman of all disciplines. Learn to foil behind the jetski using a paddleboard. This is a great way to learn for surf foiling, kite foiling, wake foiling and more! We have differnt foil setups to learn on.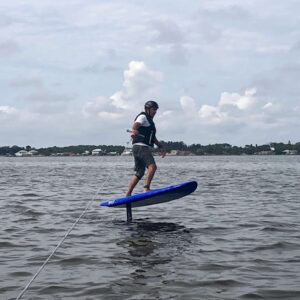 Traveling and need to rent/hire kiteboarding equipment? Just feel more comfortable with someone around to watch you? We offer supervision for riders who are able to stay upwind. An instructor will provide equipment and keep an eye on you with our jetski near by.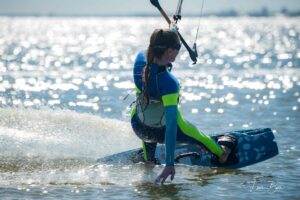 Kite with an instructor and maybe some locals! Setup a downwind run with the crew. This can be a great way to learn how to ride in the ocean or dial in any aspect of your riding ability. Also a great way to meet some local kiters.
Tear your kite? Leaking bladder? Valves falling off? Let us get you back on the water ASAP! We offer full service kite repair for any of your needs.