KITEBOARDING and HYDROFOIL LESSONS
Now Offering Lessons in Spanish on Limited Basis! (¡Ahora ofrecemos lecciones en español de forma limitada!)
Kiteboarding- Learn to Kiteboard (aka Kitesurf) with us! Kiteboarding is a very technical activity and requires large amounts of training and instruction. People you see kitesurfing might make it look effortless or easy, but this is because they have experience and have received proper instruction. The sport is comparable to Scuba Diving or Skydiving. Instruction should be obtained through lessons by trained professionals. Just like any hobby, you can always benefit greatly by receiving advice from a professional. Whether you're a beginner or you already have some Kiteboarding experience. The lessons below range from introductory, land-based lessons to more advanced water-based classes. Cocoa Beach is the ideal location for anyone interested in Kiteboarding. The shallow flat water of the 520 Slick located in the Banana River Lagoon is perfect to build up a range of skills and techniques in a safe environment.
Hydrofoiling- Hydrofoiling or foiling is the newest rage of all board sports. It has taken over in the surf, behind the boat, on a kite, with a SUP, on windsurfer and now with addition of new sports such as Wing Foiling and Efoiling. Whether you are looking to become a prone foil surfer, wake foiler, SUP foiler, winger, kite foiler, wind foiler or Efoiler….we are here to help! Our lessons start with towing behind a jetski on a large high volume board. We use a large foil to allow for foiling at low speeds making the learning process safe and easy. Anyone will enjoy this experience of hovering above the water.
Cash is always the preferred method but we do accept Visa, Mastercard, Discover, American Express or Paypal!
Our Lessons take place at the "520 SLICK" in Cocoa Beach, Florida. CLICK for more details on the location.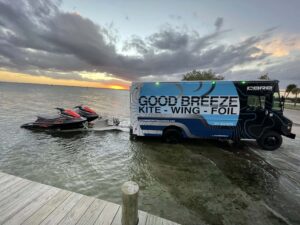 KITE LESSONS AVAILABLE AND PRICING
$275
add a 2nd person for $25
$125 each for three or more
Not sure where to start? Start with an Intro Lesson. This is your foundation for becoming a kiteboarder. Learning to fly the kite is an essential part of kiteboarding. This is a private lesson to make sure you (and friends if you desire) get the attention you need to learn the essentials.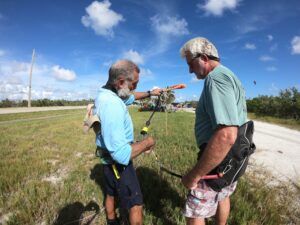 Already taken a lesson? Not quite staying upwind? Need to work any aspect? Usually done in 2-hour increments. Hourly Water Lessons are performed with Jetski support in Shallow Flat water conditions of the 520 Slick.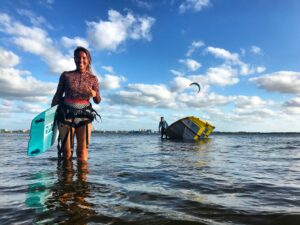 Serious about learning? The Combo Lesson includes the Intro Course and two (2) additional Hours of Lessons. This will give you the ground work required to becoming a kiteboarder! Full payment required upfront.
$100 each up to two hours
Traveling and need to rent/hire kiteboarding equipment? Just feel more comfortable with someone around to watch you? We offer supervision for riders who are able to stay upwind. An instructor will provide equipment and keep an eye on you with our jetski near by.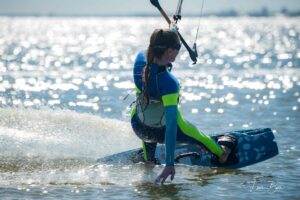 ~7.5 hours of lessons (Intro included)
Ready to commit to becoming a kiteboarder?! If you really want to
dial in your learning and put the time in, this is package for you! This package is paid upfront and no refunds are given. It can be used
over multiple days.
Tear your kite or wing? Leaking bladder? Valves falling off? Let us get you back on the water ASAP! We offer full service kite repair for any of your needs. We work on pretty much all brands and models of kites and wingfoil wings.
HYDROFOIL LESSONS AVAILABLE AND PRICING
Take a ride on the magic carpet! Now Offering E-foil Lessons/Demos. We will teach you the basics of flight on the Lift Efoil. There is no feeling like this Electric Hydrofoil Board.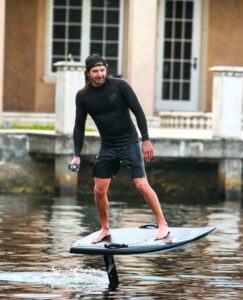 For waterman of all disciplines. Learn to foil behind the jetski using a paddleboard. This is a great way to learn for surf foiling, kite foiling, wake foiling and more! We have differnt foil setups to learn on.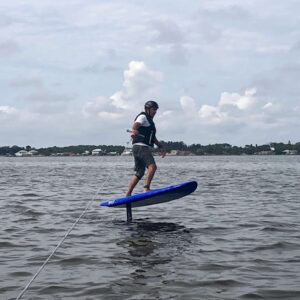 Book Today!
Call 321.252.5483
Purchase a Gift Certificate!!
Buy today for yourself or a loved one.

Gift Certificates for lessons are the perfect way to show someone you care about them! We can email you your certificate right away or print one out. They are good for one year from the purchase date. Great gifts for birthdays, Chirstmas, Father's Day, Mother's Day and more!