NOW OFFERING E-FOIL (ELECTRIC HYDROFOIL) LESSONS AND DEMOS IN THE COCOA BEACH/ MELBOURNE AREA
Sign up today to learn how to ride the Lift Efoil
$350
This is something ANYONE can learn with the proper instruction! No foiling, surfing, kiteboarding or other board sport background required (although they help). Efoil Lessons run about 1.5 hour long and cost is $350.00 for one person or split the time with two people for $400. One person can purchase two sessions upfront for $600! Larger groups can book two sessions back-to-back at $700 for up to 4 people.  Battery time varies on how the board is ridden but we aim for 20-30 minutes of ground school and 1 hour of riding time. These lesson/demos are one-on-one with a qualified instructor. We use two boards; one for the instructor and one for the rider. Two person lessons will switch off riding so an instructor will be with them the whole time. We are an Authorized Lift Affiliate and Dealer so let us help take home your very own E-foil today! We carry all the Lift Accessories including wings, masts, boards, controllers, batteries, ESC Boxes, Folding Props, Fireproof cases and spare parts.
➦ Prerequisites
➦ In this Lesson
➦ What to Bring
➦ Whats Next
➦ Where
➦ Buy Now!
➦ Add Drone Video
➦ Prerequisites
There are NO Prerequisites for taking an E-Foil Lesson besides being able to swim. Please let us know if you have any major health issues. E-Foiling is surprisingly user friendly and pretty much ANYONE can learn! As long as you can get to your feet from your stomach and knees, then you have the ability to learn E-foiling! Its always a good idea to start stretching in preparation of a lesson.  Everyone learns at a different rate. Efoiling can be fun while just riding on your stomach or knees! 
➦ In this Lesson
➦ What to Bring
➦ Whats Next
➦ Where
➦ Buy Now!
➦ Add Drone Video
E-Foil Lesson at Grills Riverside
As the creators of the original eFoil, Lift is the leader of this new sport. They have combined the modern technology of electric vehicles with a decade of hydrofoil design and expertise; the result is an elegant and sophisticated ride. The eFoil is no longer a dream or a prototype- they have been in full production for over 4 years and have delivered thousands of units around the world.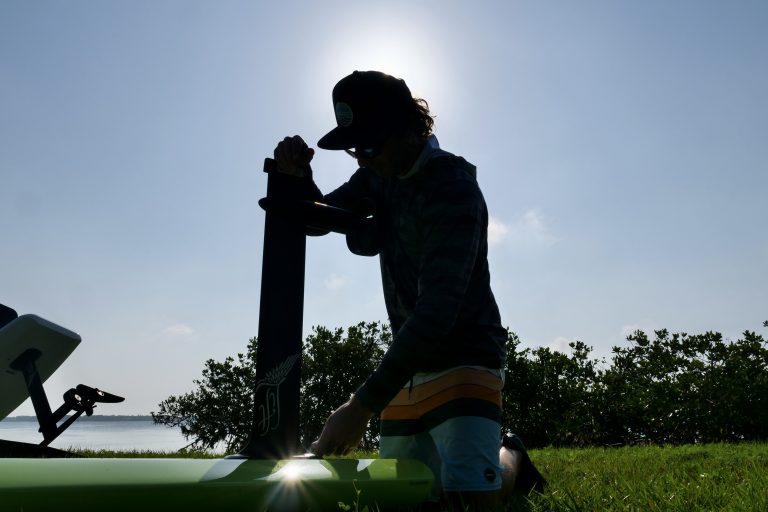 How does an E-foil work?
Basically the hydrofoil wing creates lift in the water as the speed is increased from the propulsion motor. The motor is powered by a large lithium battery that can last up to an hour and half. The speed and power is controlled by a wireless bluetooth remote you hold in your hand. Once basic throttle skills are acquired, the speed creates enough lift for the board to come out of the water. Basically its a magic carpet! Come take a ride.
Our Fleet
We teach students on the Lift 4 5'4″ Cruiser with the large 300 front wing! We also have a 4'9″ Sport with the new Camber Pro wing to demo once proper skills are acquired. We can teach you all about the boards, wings, remote, maintenance and batteries. Ask us about our Affiliate Code to use for purchasing a new board with Lift or see what we have in stock!
All-carbon fiber hydrofoil
Advanced lithium-ion battery to power a silent electric motor
Wireless Bluetooth hand controller
Capable of over 2.5 hour of ride time at up to 30 mph.
The LIFT4 is Lift Foil's best-selling eFoil, updated for style, longevity and performance.  Here's what's new: 
Ride Time- A new proprietary battery management system, and access to best-in-class battery cells allows ride time of more than 2.5hrs with our full battery, and 1.5hrs with our light battery. Additionally, charge time has been reduced to 50m for our full battery, and 30 for the light battery.  
Quiet Ride- We've introduced our brand new LIFT4 eBox with Quiet Ride technology that reduces any acoustic noise while eFoiling down to near-silence so that when you fly… it's just you and Mother Nature. 
Wings- The LIFT4 launches with our new Camber Pro front wings, our smoothest eFoil specific wings to date. The Camber Pro series is designed to perform and provide stability at high speeds, giving riders a greater feeling of control. 
Details, Perfected- The LIFT4 features many details we've updated based on input from our riders and community. Our battery features a new ruggedized housing with rubber feet, we've upgraded our latches to a proprietary carbon fiber design that automatically regulates hatch pressure, and our hand controller has been ruggedized, and now features more data options. 
The Full Lift E-Foil Lineup:
How does your experience on the Lift eFoil transfer over to Surf or Sup foiling?
There is no question that riding an eFoil has helped my foiling in all other disciplines. We all can agree that no matter how many Youtube videos you watch or forums you read, there is no substitution for repetition if you want to advance your skills in pretty much anything. In my eyes, riding an eFoil is exactly this! It has the added benefit of being incredibly fun in itself. The eFoil provides the foiling experience for an extended time while allowing your body to create the necessary muscle memory. It takes away the element of having to catch a wave or harness the wind. You are in control of your speed. The weight of the battery and board is different than what you may experience on a prone or SUP, but this makes these lighter boards feel even more lively when switching.  I kind of look at it like a baseball player swinging a weighted bat prior to stepping up to the plate. A good example is when I was learning to wingsurf, I struggled with riding the foil on my switch stance. While doing some eFoil lessons, I started playing around with it. After a couple sessions, it started to feel natural. This was a game changer. My next wingsurf session was much smoother as my body just seemed to know what to do. Although it may not be exactly the same as riding a wave, the body movements and sensations are extremely similar and overall foiling is foiling and riding an eFoil will definitely help all other hydrofoiling disciplines.