Details

Published on Thursday, 12 November 2015 17:04

Demo Day!
WATCH THIS!!
Details

Published on Thursday, 29 October 2015 15:15
Details

Published on Wednesday, 28 October 2015 15:39

El Nino Season 2015-16 In Detail
What does it mean for us?

After reviewing an article in the Weatherflow Blog written by our wind guru Shea Gibson, we can conclude several probable outcomes for the 2015-2016 weather season. We are looking at wind information specifically and how the weather patterns of an El Nino season affects those conditions on the east coast. After doing some research on past seasons and reading Shea's article, we can assume several things for our Floridian winter. We will have a colder and wetter season, cold fronts stall and fizzle out in the SE due to marine layer decoupling and we can expect more rain due to low pressure systems developing offshore.

Characteristically, our southeast winter season is dominated by cold fronts and Northeasterly storms. We get lots of west/northwest winds followed by a day or two of North/Northeast winds when these fronts push through. Northeast storms blast cold air from Canada down and give us some hard side-ons with large, short period surf swell.

Based on situation number two in Shea's Article we should see some stalled out fronts with lots of rain and moisture causing 1-2 day windows of W/NW. Overall, projections aim to see average NE activity causing winter conditions and weaker SW/W winds due to decoupling(due to temperature difference of air and sea). If we end up seeing conditions from situation number one as described in the article, we should see lots of above average W/NW activity followed by more sizeable N/NE winds.

As we look forward to this season we are anticipating more frontal activity from the west and accelerated Northeasterly wind chances bringing winter weather. We will be keeping a close watch on all of the indicators and we will be sure to keep you all updated!

-Kit Fisher
Details

Published on Wednesday, 14 October 2015 17:44
Details

Published on Tuesday, 13 October 2015 18:44
El Nino Season 2015-16
What does it mean for us?
The El Nino season coming upon us for the winter of 2015-16 means several things for our wind and surf conditions. El Nino winters are characterized by a stronger than average Pacific Jet Stream. This means a wet and late winter season between December and April. Come late November/early December, we may experience more severe weather activity with stronger than average W/NW winds and chance for storms. El Nino can also be characterized by lots of late season Northeasters which deliver consistent swell and wind to our east coast. For more information visit some of these sites listed below. Look for a more detailed interview on El Nino with Shea Gibson from Weatherflow Inc. coming soon to our blog page.
cpc.noa
mynews13.com
srh.noaa
2016 Slingshot Compstick w/ Sentinel Saftey
What do we like about it?
Slingshot has brought some new features to the Compstick this year and we are happy to see them.

The first big change is the addition of the sentinel safety system.
This is an update from the guardian system from 2014-2015 and is incredibly easy to use. No more messing with a pin and bungee system. Simply slide the quick release forward and insert the chicken loop.

The above the bar trim and trim magnet is clutch.
We now have the option to use below the bar or above the bar trim. The below the bar Compstick comes with the late model guardian safety system whereas the above the bar Compstick comes with the sentinel and swivel. The above-bar trim cleat and magnet is adjustable so that the rider can change the throw of the bar. When depowered, simply touch the trim cleat loop to the cleat itself and a small magnet holds the excess line out of your way.

A below the bar swivel makes twisting out your lines a breeze!
The Center of the Universe swivel doesn't freely swivel forever and it is too far away from the bar to reach while riding. The addition of the below the bar swivel to the Compstick with Sentinel is great for untangling your twisted lines on the fly.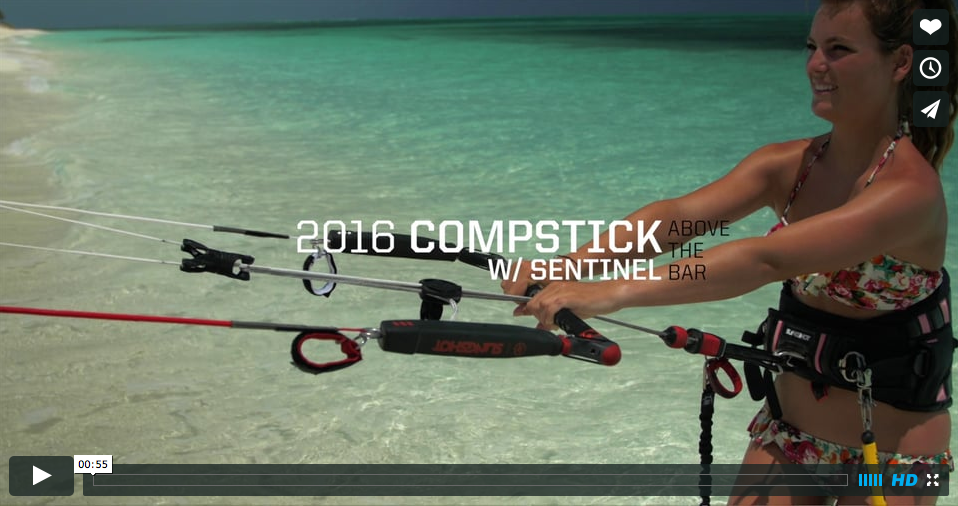 Ride Engine Hype!
Have you heard the hype about one of the most talked about new products in the kiteboarding world? Ride Engine is coming into the kiteboarding scene with the Hex Core Waist Harness. The Hex Core is a new style of waist harness that uses a completely rigid, molded back piece and a free-sliding rope spreader bar.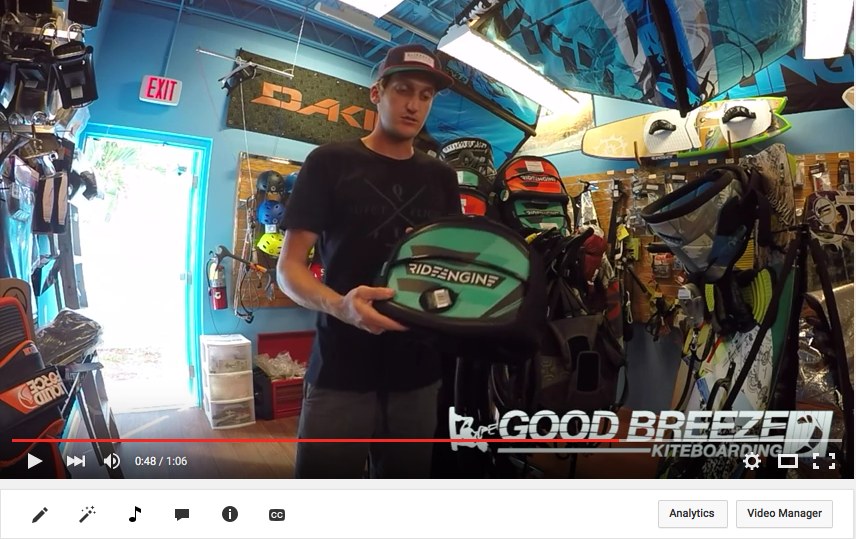 Sweet Deals